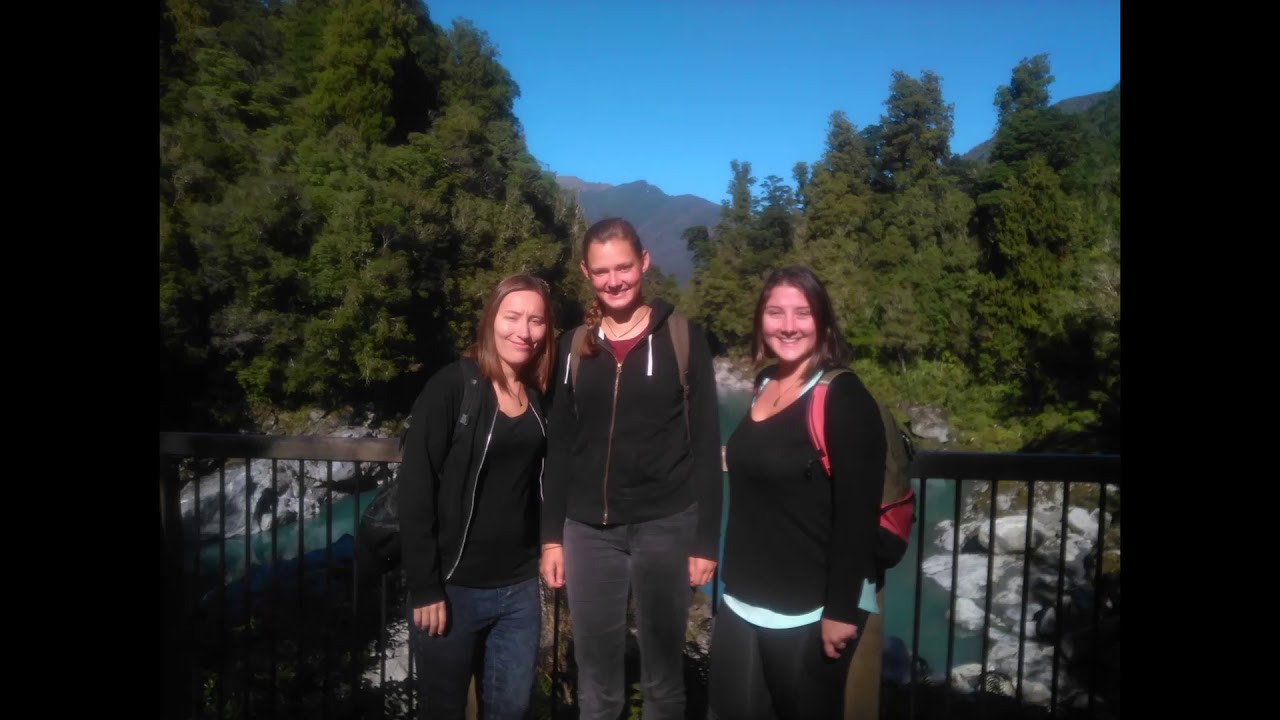 TRIPADVISOR review
Wonderful Hokitika tour with an Awesome guide
We went on a wonderful tour to lake Kaniere, the native rainforest, the waterfall and Hokitika Gorge. Rachel picked us up from our motel on time. She drove us in a clean and comfortable SUV. The tour was very scenic and very well paced. We enjoyed walking the rainforest and the Gorge. Rachel was a lovely and friendly guide. She was very knowledgeable and informative. We learned about history of the area and the plants and trees of the forest. We enjoyed our time and felt relaxed and comfortable. Rachel went above and beyond. She took good pictures for us and was happy to answer all our questions. She had a sandfly natural oil repellent which we applied before walking through the forest. She also had delicious homemade cheese scones as a snack for us. Thank you Rachel for providing outstanding service and for taking us on this very beautiful tour. Very Highly recommended!
Date of experience: January 2020
Trip type: Travelled with friends
MissBec wrote a review Nov 2019
1 contribution
Sparkling in the sun
Perfect timing, as some seasonal rain cleared to reveal the beautiful Hokitika Gorge. Easy access and a solid walking track. On the journey my delightful driver Rachel gave some pertinent and interest facts covering the area, it's history and whetted my appetite to explore further. She happily catered to my request to visit Punakaiki (the pancake rocks) with breathtaking views of the Tasman. Rachel was bright, warm and friendly and nothing was a bother. She enhanced my enjoyment of the trip by 100 percent.
Her comfortable vehicle and a great local knowledge of the area means I wouldn't hesitate to recommend her tour company to any traveller wanting a bespoke tour experience. Thank you Rachel.
Date of experience: November 2019
Trip type: Travelled solo More testimonials below.......
Please feel free to contact us with your testimonial - We would be happy to upload to this page and thank you for touring with Hokitika Scenic Tours - Safe travels!
Lake Kaniere - Thanks Jill, Steve & Co.
Welcome to our part of the world!
Blow holes Pancake Rocks - Punakaiki
Fox Glacier - West Coast, NZ
Testimonal:
-" Thank you for a great day at Treetop Walk & Pancake Rocks. We were so lucky to meet you."
Dave & Noelle - Ireland.
March 2017
Testimonals:
- " Thanks very much good trip, Gorge is beautiful " Caroline Auld - UK September 2004
- " Beautiful & Tranquil - Great photo ops thanks" Jon Santono - New York November 2004
- " Loved it absolutely fab! & gorgeous! Thank you " Anna & Maria - Sweden February 2005
- " Fantastic trip, great scenery & good company " Nimisha Tailor - UK November 2005
- " You did a great tour around and were very kind " Marilyn Ferraro - Hollister CA December 2005
- " A very pleasant and informative tour, thank you very much" Dave & Jenny Howse - Portsmouth UK December 2005
- " Great Tour thanks Rachel. Would not of seen so much on our own " Dave & Edie - Hastings NZ December 2005
Eco Boat Cruise - Mahinapua waterways, NZ
Daily Personal Transport Service Hokitika - Travel in style & comfort
Testimonals:
- " Beautiful luxury tour, just perfect thanks " Susanna - Switzerland October 2016
-" Stunning place and learned alot from all your great info "
Emily, Kate & Jamie - Canada & UK November 2016
-" Fantastic day with a lovely driver, thank you so much! " Tilda & Annie - Sweden December 2016
Mirrored reflection on tranquil Lake Kaniere
01 OCTOBER 2018 - CLAIRE
- Fabulous Hokitika Scenic Tours
Went on two tours with Mur & Steve from Lakes District ( UK ) & Deena from Canada.
Our fantastic tour guide Rachel was informative, fun and a really genuine Kiwi.
We went to Franz Josef Glacier, Hokitika Gorge & Lake Kaniere.
Would recommend to anyone!! Scenery to die for!!
Thanks for sharing your great photos!
Time for a Kit Kat - Well Done
15 reviews
Kea_Elisa
Delft, The Netherlands
5 star
Reviewed 2 weeks ago via mobile
Scenic & wonderful
More than a year ago, I took a tour with Hokitika Scenic Tours to see the Hokitika Gorge and other sights in the surrounding area. It was a beautiful experience, each place we visited had its own charisma. Rachel was a fantastic guide: not only was she very knowledgable about all the spots we visited, I also very much enjoyed her stories of what it is like living in Hokitika. I still think about Hokitika once in a while, especially the serene lake we visited. I really hope to return one day!
Date of experience: November 2018
Monique R
Queenstown, New Zealand
5 star
Reviewed 14 March 2019
Great way to explore Hokitika
Really enjoyed Hokitika Scenic Tours, Rachel was super personable and friendly and offered really good local commentary on the region. The Hokitika Gorge was so beautiful and the Treetop Walk was awesome. Highly recommend!
Date of experience: March 2019
rachel_m_donnelly
Darwin, Australia
5 star
Reviewed 9 February 2019 via mobile
Great way to see the sights of Hokitika
I really enjoyed my tour to Hokitika Gorge with Rachel! I was travelling solo and with little time to explore the hinterland, this was the perfect option for me. Rachel was knowledgeable about the area and it's history, and allowed plenty of time for me to explore the Gorge. A 2 hour trip in total - well worth it.
Date of experience: February 2019
Penny B
Auckland Central, New Zealand
5 star
Reviewed 4 February 2019
Helpful and efficient tramper track transport
Through Hokitika Scenic Tours we organised a drop off in the Mikonui Valley and pick up in the Whitcombe Valley before and after a tramping trip. There were 5 of us with big packs. Rachel was super helpful and accommodating, especially as we couldn't be specific about when and in which valley we were finishing. Rachel also recommended a secure place for us to leave our cars. We appreciated Rachel and Morrie's friendliness, knowledge of the area and helpfulness. A great service!
Date of experience: February 2019
ImogenMoz
Melbourne, Australia
5 star
Reviewed 6 January 2019 via mobile
Highlight of Hokitika!
When we arrived in Hokitika via InterCity bus, we were desperate to visit Hokitika Gorge, but left scratching our heads as to how to get there being car-less. Luckily, after a swift phone call to Rachel, greeted with a friendly and accommodating voice - we...we were booked to travel there the following day.
We had a beautiful journey with Rachel. It was fantastic to converse with a local and hear the fascinating insights regarding the geography and local history that makes Hokitika so special. The vehicle was smooth and comfortable, a real delight to drive in!
Upon arrival, we were offered some sandfly repellent. However it wasn't just any repellent - it was a non-greasy oil made from local and natural ingredients! Another thoughtful touch that did not go unnoticed.
The gorge was stunning, and upon our arrival back to the vehicle, Rachel had some lovely postcards waiting for us. She also had a towel awaiting us just incase we had swam- how thoughtful and hospitable can you get!!?!
We thank Rachel for this excellent service and highly recommend it to all for a stress free and highly informative journey!
Date of experience: January 2019
iwalle64
5 star
Reviewed 16 November 2018
Perfect Timing...Epic!
I had a little lay over here in Hokitika from the bus trip coming from Franz Josef. Perfect timing. I wanted to see if I could make it to Hokitika Gorge in time before my flight. At the same time I was looking for a taxi to the airport. Talk about perfect timing! Went to the Information Center and bumped into Rachel. She took us to the gorge and then the airport with lots of spare time. The gorge was beautiful and Rachel was kind enough to take a picture of us on the suspended bridge. Well worth it! Rachel is flexible and nothing but positive vibes! She gave us a little brief history of the surrounding area as well. One of my favorite parts of my trip. Highly recommend it!
Date of experience: November 2018
amtrogstad
Lancaster, United Kingdom
5 star
Reviewed 26 August 2018
Rachel is just the friendliest, most insightful guide ever!
Direct quote from my little sister: "I loved Hokitika Gorge, but the highlight of the trip was speaking to Rachel. She's just so interesting and it's so nice to speak to a Kiwi about life here!"
- I agree with her! My sister and I (19 & 23) had what was basically a private tour to Hokitika Gorge and back with Rachel. We didn't have our own transport so this is the PERFECT way to head out there (and $45pp is totally reasonable even as (essentially) backpackers, really really happy with that price for a 2hr trip for just the two of us!).
The Gorge is just a must do (it's super beautiful) but make sure you use Rachel. Honestly, having met nearly as many actual Kiwis as the bird out here, getting insight into Hokitika/West Coast life was just lovely. Rachel is so bubbly, down to earth, genuinely interested in your travels and she knows SO MUCH. We loved finding out about the first mass murder in NZ back in 1941 (I think!) along the way to the Gorge, and she was happy to stop along the way for pics of cute calves if we wanted to. Rachel also took some great photos of us at the Gorge from afar, which are snapshots we wouldn't ever get otherwise. She happily emailed them to me which is just way beyond what any guide would have to do just for two travellers.
We had a bit of extra time too as the Gorge was so quiet so Rachel drove us around Hokitika to point out Sunset Point and where to find the glow worms at the dell later that night.
Honestly, it was just a huge highlight of our little two-night break in this wonderful tiny town out West. I can't wait to return to Hokitika and I'm so so grateful that my sister got to see the Gorge in such an interesting, relaxing, friendly and exciting way while she's here from across the world.
Thank you so much, Rachel!
Date of experience: August 2018